Reaction To Biggest People's Climate March In History-Please Implement Feed-In-Tariff For Renewable Energy With Incorporation of True Value of Each and Every Renewable Energy
Dear Friends & Neighbors,

T
his is a repost from a post at Sun Is The Future.
Please click and view the video below for The Biggest People's Climate March Ever!
(Please click on red links and note magenta)
Hundreds of thousands of people took to the streets of NYC, other cities in USA and elsewhere in the world, on Sunday (September 21, 2014), Monday (September 22, 2014) and Tuesday (September 23, 2014), demanding world leaders to do more to take serious actions to slow the Climate Change. In NYC (New York City) alone, there were 310,000 people showing up to march for Climate Justice. So far, there is no global agreement on what to do regarding Climate Change, even though some countries have already taken actions in reducing CO2 emissions (such as Australia's previous Carbon Tax, European nations (esp. policies by Germany), China's, Taiwan's, and Japan's Feed-In-Tariff for Solar & Wind & switching from coal to natural gas, U.S. has switched from coal to natural gas and increased solar and wind installations). This largest climate march in history involves approximately 1500 organizations, but is mostly organized by AVAAZ (with membership of over 30 million people according to wikipedia) and 350.org . It has brought together great diversity of people from different social, economic, political, and religious affiliations. It is purposely designed to take place prior to the UN meeting on Tuesday, September 23, 2014, when discussion regarding future direction and finance associated with the topic of climate change will be taking place.
Here, at Sun Is The Future, we'd like to implore leaders of the world to consider implementing Feed-In-Tariff For Renewable Energy: Feed-In Tariffs (FITs) have proven to be the world's most successful policy for delivering large quantities of renewable energy generation quickly and cheaply. It will help to develop vibrant renewable energy industries (solar-wind-water-geothermal-wave ) that will Reduce CO2 emissions, Slow Climate Change, Solve Energy Problem, Create Local Jobs, by using our abundant Sunshine and various Renewable Resources. We believe, by implementing Feed-In-Tariff For Renewable Energy, incorporating True Value of Each and Every Renewable Energy, Feed-In-Tariff For Renewable Energy will be implemented most effectively.
This is what hope looks like: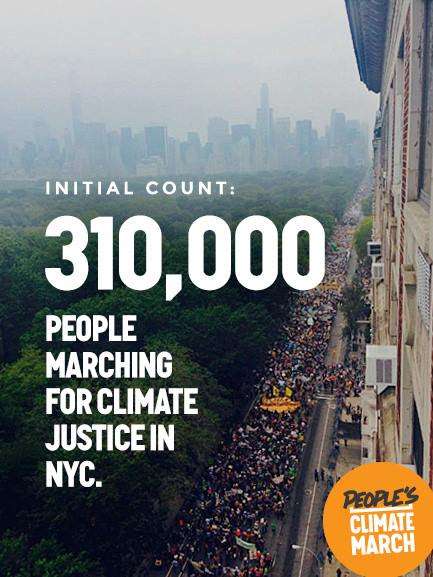 Above photo from @cynryan on Twitter
Below, is part of the email received from Jamie from 350.org
———————————————————————————————————————————

On Monday, 310,000 people took to the streets of New York City to call for climate action — the largest climate march in history.
And on Tuesday, the world's politicians will gather in New York to talk about climate action — 125 heads of state in total. They'll be gathering with the knowledge that more people than ever are demanding action, not just words, and that their political future is on the line — as well as the future of the planet.
We will bring that message to the top leadership of the UN inside Tuesday's summit, with a hand-delivered message to top UN climate negotiators. If you stand with the hundreds of thousands of people who marched today around the world, tell world leaders that you mean business: act.350.org/letter/ready-for-action/
Today people from the communities where fossil fuels are dug up marched alongside people who live where they are burned. Thousands of workers, the people who stand ready to build a clean, renewable energy system, walked alongside indigenous communities that are already leading with their own climate solutions.
New Yorkers, including those whose homes were wrecked by Superstorm Sandy, marched in huge numbers, standing alongside international ambassadors from communities responding to climate disasters worldwide.
The ripples of the People's Climate Mobilization are already spreading. A people's summit outlining the path to a just transition away from fossil fuels starts tomorrow, along with actions targeting corporate polluters in New York.
With your help those ripples can spread further, and strengthen — and on Tuesday, hopefully help rock world leaders into action, where they have only offered words before.
————————————————————————————————————————————-
We hope the UN leaders have heard our voices and will seriously consider implementing Feed-In-Tariff For Renewable Energy With Incorporation of True Value of Each and Every Renewable Energy throughout our planet earth.
Related links/topics:
1. Discussion of the Importance of Value of Solar With Karl Rabago
2. Expanded Discussion on Value of Solar
3. In-Depth Analysis of Renewable Energy Policy With Toby D. Couture
4. Feed-In-Tariff at Wikipedia

5. John Farrell, The Force Behind Local Self Reliance

6. Let's Move Our 50 States Toward Clean Energy! The Clean, Renewable Energy Movement Is Here!

7. Help Your School Districts/Administrators To Save A Million Dollars!
8. Join Us, at Sunisthefuture Team at Kiva, to Spread More Sunshine!
—————————————————————————————————————————————-

I've received some comments regarding "Why should we worry about Climate Change?!"  Please view videos below that would help to shed some light for those of us in Florida:
http://www.slrsouthflorida.com/#!video/c27
~Let's Help One Another~

Gathered, written, and posted by Windermere Sun-Susan Sun Nunamaker
Any of your comments or suggestions will be welcomed either via info.WindermereSun@gmail.com or "Contact Us" above.
Be sure to also check out our Image Gallery or Windermere Sun TV above and Follow/Like/Share/Subscribe our pages at Facebook, Twitter, Youtube, Pinterest, Google+.
Visit & Share our community Homepage at: www.WindermereSun.com
Please also get into the habit of checking at these sites below for more on solar energy topics:
www.youtube.com/user/sunisthefuture
www.kiva.org/team/sunisthefuture
www.facebook.com/sunisthefuture
www.pinterest.com/sunisthefuture
www.cafepress.com/sunisthefuture